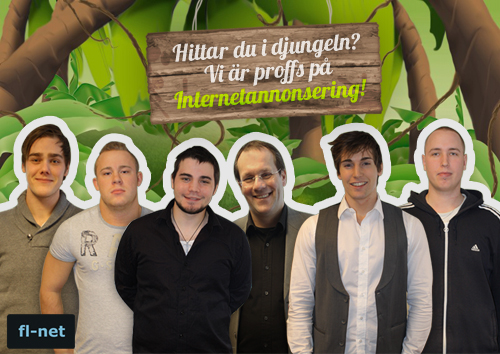 Address: FL-NET AB, Kalmarsundsparken 1, S-392 47 KALMAR, SWEDEN
Visit:
Larmgatan 20, KALMAR
Phone: +46 480 421840 Fax: +46 480 421841
Email:
info@fl-net.se
WWW:
www.fl-net.se
History
FL-net was started in 1996 by Helene Fredholm and Michael Landin (CEO). In these years they launched over 50 Internet services. Most of them were very successful in Sweden. In June 2007 they have more than 15 million contacts every month with customers through the web and by e-mail. FL-Net has 6 employees and the turnover is € 0,6 miljon. Since 1997 we have been profitable every year.

Business/Products
- Domain services. We are the certified registrar for .NU-names in Sweden. We are also .SE-certified and .EU-certified registrar. We have a total of more than 4000 domain service customers. Order on www.regit.nu/eng/
- Banners - More than 10 million pagewiews a month
- E-mail advertising and Permission Marketing- We have more than 2 million subscriptions worldwide on our newsletters and permission marketing services. Search your targetgroup on-line http://search.mailbox.nu
- News - We have our own journalists and we also work with one of the leading news agencys in Sweden - Sveriges Nyheter.

Customers
FL-Net has more than 1000 advertising customers. Here are some of our international customers; Microsoft, IDG, Ford, Opel, Mercedes-Benz, Pfiezer, GlaxoSmithKline, SAS, SAP, Computer Associates, Novell, McDonald's, Pepsi, Siemens, 3Com, Intel, Nokia, Kodak, Honda, Toshiba, Google, Vertias; Shell, Mastercard, Ferarri and Mitsubishi.